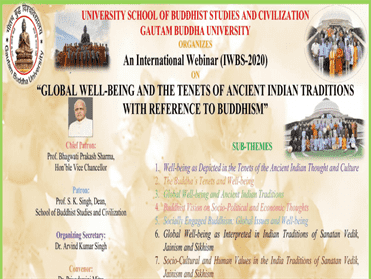 Download Links:
Information Brochure
An International Webinar on Global Well-being and The Tenents of Anciant Indian Traditions with Reference to Buddhism
09-07-2020
School of Buddhist Studies and Civilization (SOBSC), Gautam Buddha University, India is happy to announce that we are going to organize our school's 3rd International webinar from July 09-11, 2020 to investigate and identify the multifarious traditions that Buddhism has evolved within its long history. The prime vision of the webinar is to visualize the numerous traditions and sub-traditions that Buddhism inculcated in its long journey as well as interacted with different traditions with an aim to set up a forum for the academicians/research scholars/students engaged in Buddhist Studies and related relevant subjects to take a cohesive and collective brainstorming. The webinar will be able to establish the true Buddhology with a strong message of transparent research methodology. It will also prelude to the Buddha's message of peace and harmony right into deepest fathom of human universe.